Goethe, Schiller, Thomas Mann are some of the most famous German writers.
If you are a classical literature fan, it may be your long-term goal to read such literature.
However, right now, you're a beginner. What can you read at this level? That's where I'm here to help. I'm going to give you some tips on good German books for beginners.
Short Stories
Begin with some short stories.
You will undoubtedly find it easier to find time to read a complete story in 20 pages than 300.
1. Short stories in German for Beginners" by Olly Richards and Alex Rawlings
"An unmissable collection of eight unconventional and captivating short stories for young and adult learners."
Short Stories in German for Beginners has been written especially for students from beginner to intermediate level, designed to give a sense of achievement, and most importantly – enjoyment!
Mapped to A2-B1 on the Common European Framework of Reference, these eight captivating stories will both entertain you and give you a feeling of progress when reading.
What Does This Book Give You?
Eight stories in various exciting genres, from science fiction to history – making reading fun while you learn a wide range of new vocabulary.
Controlled language at your level, including the 1000 most frequent words, to help you progress confidently.
Authentic spoken dialogues, to help you learn conversational expressions
Pleasure! It's much easier to learn a new language when you're having fun.
(A research shows that if you're enjoying reading in a foreign language, you won't experience the usual feelings of frustration – 'It's too hard!' 'I don't understand!)
Accessible grammar, so you learn new structures naturally, in a stress-free way.
Carefully curated to make learning a new language easy, these stories include key features that will support and consolidate your progress, including
A glossary for bolded words in each text
A bilingual word list
Full plot summary
Comprehension questions after each chapter.
You can order this book as a hard copy, audiobook, or for your Kindle here.
2. "German Short stories for Beginners Book 1" by Learn like a Native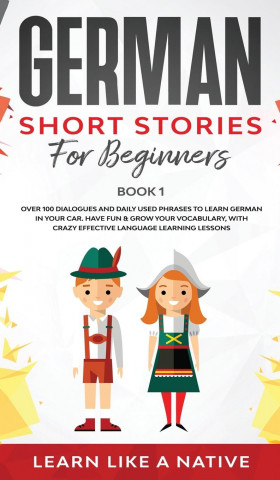 "Have fun and grow your vocabulary with crazy, effective language learning lessons."
"German Short Stories for Beginners" contains several uniquely structured German-to-English short stories with over 100 simple, easy-to-digest dialogues and daily used phrases, so you can seamlessly learn the language.
In the stories within, you will see people speaking to each other, going through daily life situations, and using the most common, helpful words and phrases in German.
Learn Like a Native crafted this book with beginners in mind.
Here is where you will find stimulating yet straightforward German language usage that is mainly in the present tense, so you will be able to focus on dialogues and root verbs effectively and effortlessly understand and find patterns in subject-verb agreement.
The book promises that beginners like you will:
Effortlessly learn basic German with the help of cleverly structured short stories for beginners.
Quickly absorb German terms for possessing common everyday objects
Cleverly incorporate prepositions and common present tense verbs for any situation
Quickly relay your emotions, questions, likes, and dislikes in German anytime, anywhere.
3. Cafe in Berlin
I firmly believe short stories are the way to go, so I'm going to give you one more recommendation here.
Cafe in Berlin is a bestseller about a young Sicilian bachelor who is new to Berlin and tells of his encounters in the German capital.
What You'll Find In This Book
Ten quirky chapters set in bustling Berlin
A relatable protagonist and other fun characters
Tons of phrases and expressions you will actually use in daily life
A detailed German-English dictionary after every chapter
Fun short quizzes to check your text comprehension (including answers)
Bonus materials including video, flashcards, and further exercises
The beginning of a grand German learning adventure
Furthermore, this is just the first book in a series. In other books, you can follow the main character on his travels to other German cities, such as Cologne, Frankfurt, and Munich.
Parallel Texts and Bilingual Books
If you're not yet confident in reading all by yourself in German, an excellent option is so-called parallel texts.
That means stories are written on the left-hand page in German, with an English translation on the right. This is an easy way to learn vocabulary directly and in context.
Try some classic literary works such as:
Be sure to note new vocabulary in your notebook, along with the according article (der, die, or das.)
Read a Story You Already Know
A further recommendation of mine is to read a story you already know. That way, you can focus more on the language than on the context.
When familiar with the subject matter, it will be easier to learn the vocabulary and grammar in their correct form.
We all know many of the fairy tales from The Brothers Grimm. Here you can find the original texts in German with simultaneous translations on the opposite pages: Grimms Märchen
Formal Training
(the not-so-fun yet essential part of learning German.)
Ok, I've given you plenty of tips on what to read for pleasure.
But, which are the best books for learning grammar?
"Easy Learning Complete German Grammar, Verbs and Vocabulary" by Collins Dictionaries. The writer claims the book is ideal for beginners wanting a clear and easy-to-understand German reference guide.
"German for Beginners" from Usborne. This title comes with Internet links offering opportunities to hear the language by a native speaker. Grammar is clearly explained, and puzzles provide plenty of practice.
"German Grammar in a Nutshell" by Langenscheidt. Here the author claims to learn grammar "kurz und schmerzlos" (quickly and pain-free.) That sounds good to me!
So, my little bookworm. That brings me to the end of my topic, "German books for beginners." I hope I've inspired you to get reading and that you soon start to learn some interesting facts or can entertain yourself via the German language.
Have fun! Viel Spaß!